Conference venue and city

The conference will be held at Melbourne Convention and Exhibition Centre (MCEC), set on the banks of the iconic Yarra River. MCEC is just a 20-minute drive from Melbourne airport and a short stroll to the city centre where you can explore cafés, eclectic restaurants, lush parklands, incredible fashion and inspiring galleries and museums.

The Centre, voted Australasia's Leading Meetings and Conference Centre in 2014, 2013 and 2012 by the prestigious World Travel Awards, will provide state of the art facilities to ensure that CDC2017 is a stand-out conference in the series. Visit the MCEC website for more information


LOCATION AND MAP 1 Convention Place
South Wharf Victoria Australia





The Down Under experience for travellers: DISCOVER MELBOURNE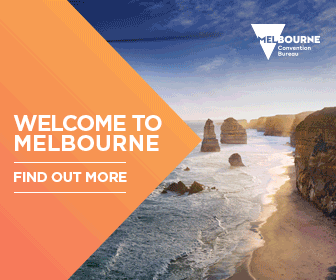 Visitors will find Melbourne an exciting city to explore. Modern architecture and design is juxtaposed with heritage buildings reflecting Australia's cultural history. But beneath the city's impressive façade, lies the true heart and soul of the city; laneways which snake the city grid to reveal cafés and bars, fashion houses, boutiques, innovative cuisine, galleries, theatres and museums.

Melbourne, located on the east coast, is the second largest city in Australia. Almost 4 million people live in the city, which has been voted The World's Most Liveable City on a number of occasions.

Melbourne has a lively passion for social eating and drinking, which is reflected in the thousands of restaurants serving up gastronomic experiences from around the world. Everywhere you look you will uncover a vast array of fashionable cafés, where you can enjoy Melbourne's existential coffee and cafe culture to the fullest.
Climate and Clothing
With its variable climate, Melbourne is cool to mild in spring (September to November), with temperatures averaging 22°C during the day and 12°C at night. It is recommended that visitors bring clothing suitable for cool days and cold nights.
Restaurants
Melbourne is a multi-cultural city and a wide range of cuisine is available throughout its many restaurants.
Shopping
Most shops in Melbourne are generally open from 09:00 to 17:00, Saturday to Wednesday and 09:00 to 21:00 Thursday to Friday. In all stores and shopping centres major credit cards are accepted and tax-free shopping is possible within the city. Walking is the best way to shop, especially along Melbourne's arcades and laneways.
Outside the city centre, visit shopping precincts like Chapel Street in South Yarra, Acland Street in St Kilda and Brunswick Street in Fitzroy, especially on weekends. Here you'll find everything from retro home wares to funky shops selling cult-in-the-making jewellery. These strips also have many street cafes.
Info on events
Updated information on ongoing events in Melbourne can be found via the What's On website
You can also subscribe to the What's On newsletter to receive the latest information on what to do and see in Melbourne!
The Down Under experience for travellers: DISCOVER VICTORIA
Few places can match the vast natural diversity on offer in Victoria.
From surfing the world-famous Bells Beach surf coast, to skiing at Mt Buller, from enjoying an Aussie barbecue at Emu Bottom homestead, to learning to make wine on the Mornington Peninsula, Victoria offers unique experiences which capture the imagination.
Natural wonders abound, such as the Great Ocean Road, which offers breathtaking sea views and a welcome change of pace. The majestic Murray River, with its awe-inspiring sunsets, stretches along the top of the state, while The Grampians region offers ancient and expansive landscapes.
For a splash of indulgence, board a luxury charter and discover Port Phillip Bay in Style. Swim with dolphins and seals, snorkel, or simply soak up the sun out on the deck. Visit Domaine Chandon, one of the Yarra Valley's stunning vineyards, for world celebrated sparkling wine, and gourmet platters filled with fresh, local produce.
Wind down with a treatment at an award-winning Daylesford Day Spa, or by teeing off at one of Australia's top 10 golf courses, such as the Shearwater Cape Schanck Resort, surrounded by spectacular ocean views and magnificent natural landscapes.
Whether discovering Australia's gold-mining history at an historical township such as Ballarat, or getting up close and personal with wildlife and penguins at Phillip Island Nature Parks, visit regional Victoria for an unforgettable experience of Australia.
For a comprehensive guide covering all that Victoria has to offer, see www.visitvictoria.com.au.
The Down Under experience for travellers: AUSTRALIA
Australia is a land of many opportunities for visitors. It contains a breathtaking diversity of natural landscapes from the snow-capped mountains of the Southern Alps to the lush rainforests of the tropical north, and from the spectacular surf beaches of the coast to the wide open spaces of the Australian Outback. No visit would be complete without exploring some of Australia's natural heritage icons, such as the Great Barrier Reef, Kakadu National Park and Uluru.
Just as distinct are Australia's cities, where our laidback lifestyle and cosmopolitan culture meet. You will find a melting pot of cultures and a medley of theatre, restaurants, nightlife and events. Come, stay and celebrate, then spring into the rest of your Australian holiday. Australia has so much for you to explore, whether you want nature, wildlife, outback adventure, islands, rainforest or reef.
Australia's unique beauty is spread across eight states and territories, so find out more about the distinct attractions within each:
The Down Under experience for travellers: NEW ZEALAND
New Zealand, as co-host country for the congress, provides many unique attractions for the traveller. Also known by its indigenous Maori name of Aotearoa, commonly translated as The Land of the Long White Cloud, New Zealand has a mild and temperate climate, and is a compact country for ease of travelling.
Similar to Australia, its long isolation from the rest of the world and its island biogeography, New Zealand has an extraordinary array of flora and fauna, unique landscapes and natural resources, and a wonderful cultural history.
These qualities make it a haven for many outdoor activities, and a great place to unwind. New Zealand society is diverse, sophisticated, and multicultural, with European, Maori, Pacific and Asian influences. It's a culture that celebrates the many different lifestyles we live and the stories we have to tell.
The Down Under experience for travellers: PACIFIC ISLANDS
The Pacific Islands comprise 20,000 to 30,000 smaller islands in the Pacific Ocean. The Pacific islands south of the Tropic of Cancer are traditionally grouped into three divisions: Melanesia, Micronesia and Polynesia.
The islands consist of thousands of coral atolls and volcanic islands, with beautiful landscapes and small human populations. Some of the better known are Papua New Guinea, Vanuatu, the Solomon Islands, Fiji, Polynesian Samoa and the Cook Islands.
Lesser known are tiny island nations such as Kiribati which is scattered across a stretch of ocean as wide as Australia. All Pacific islands have a tropical climate with fantastic travel packages including fishing, diving, trekking and backpacking. Wherever you go, you are assured of a warm welcome and diverse cultural experiences.
Find out more about their distinct attractions: